Odor, Taste & Water Purification
---
Why is our Odor, Taste & Water Purification better?
Custom built systems:
We custom design and assemble all of our water treatment systems in-house. We take pride in the fact that we are not limited by ties to any particular franchise or manufacturer. This allows us to select the best possible components for the application. We don't agree with the one-size-fits-all philosophy. We carefully analyze your particular water profile, and build a system specifically to target your issues. This way, you and your family will get the highest quality water possible.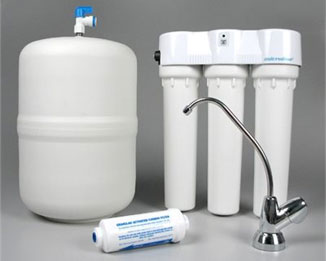 Advance Reverse Osmosis (R.O.) System SQC Pro Series
Conveniently dispenses healthy purified water for all water-based cooking and consumption.
Four Stage Filtration significantly reduces
Conserves water, shutting down when storage tank is full. Automatically turns on to refill tank.
Slim profile, space saving design
High flow, pump assisted filtration provides increased membrane efficiency and tank recovery
System designed for both chlorinated and non-chlorinated municipal or well systems
Radial flow block carbon polishing filter for highest faucet output
Adaptable for use with decorative faucets to match any decorative style and function